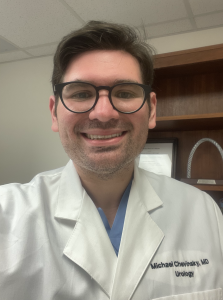 Dr. Chevinsky is a native of Mendham, New Jersey. He received a Bachelor of Arts degree in Neurosciences with a minor in Philosophy from Drew University, in Madison, New Jersey, where he graduated Summa Cum Laude and was inducted into the Phi Beta Kappa national academic honor society, Beta Beta Beta national biology honor society, and Nu Rho Psi national neuroscience honor society. Dr. Chevinsky then attended Rutgers Robert Wood Johnson Medical School in New Brunswick, New Jersey, where he received a medical degree with a distinction in research. During medical school, Dr. Chevinsky pursued his interest in urology at the prestigious Memorial Sloan Kettering Cancer Center in New York City, dedicating an additional year of study focusing his attention on better understanding urologic cancers, authoring and co-authoring multiple articles in highly regarded journals including Nature Communications, The Journal of Clinical Oncology and The Journal of Urology and presenting at numerous national meetings.
Dr. Chevinsky continued his medical career at the renowned Washington University in St. Louis-Barnes Jewish Hospital Medical Center in St. Louis, Missouri, where he completed a year of general surgery internship followed by four years of residency training in adult and pediatric urologic surgery under the direction of distinguished urologic surgeon Gerald Andriole, MD. While serving as Chief Resident Dr. Chevinsky had the opportunity to participate in many different complex urologic surgeries utilizing open, laparoscopic, and robotic surgical techniques. Following residency, Dr. Chevinsky was selected for a highly coveted fellowship position in Robotic Urologic Oncology and Minimally Invasive Surgery at The University of Southern California Institute of Urology, where he participated in over 200 robotic urologic surgeries under the tutelage of world renown robotic urologic surgical pioneer Dr. Inderbir Gill, MD and his team of expert robotic surgeons and innovators. Dr. Chevinsky has authored over 35 peer reviewed journal articles and abstracts which have been cited over 450 times.
Dr. Chevinsky was trained in the newest techniques and technologies for treatment of patients with a broad spectrum of urologic conditions including Da Vinci robotic surgery for urologic cancers as well as for benign indications, minimally invasive treatments for kidney stones and ureteral strictures, robotic simple prostatectomy, green light laser vaporization of the prostate, aquablation therapy, and Urolift® for benign prostatic enlargement, bluelight cystoscopy for the evaluation and management of bladder cancer, and medical and surgical treatments of erectile dysfunction and male urinary incontinence. In an ever-changing landscape of innovative advanced treatments for patients with urologic diseases, Dr. Chevinsky keeps abreast of the newest techniques to offer his patients by regularly reading journal articles and attending conferences and lectures.
Dr Chevinsky is very excited to be part of Dr. Pasin's one of a kind team and help continue to provide expert urologic care to the residents in and around Orange County. Dr. Chevinsky believes that in order to care for patients it is imperative to care about them and strives for a patient centered individualized approach for each patient, taking into account his or her unique goals and expectations for treatment. Dr. Chevinsky endeavors to develop long lasting relationships with his patients based on transparency, respect, and trust.
Dr. Chevinsky enjoys listening to music and playing the piano and saxophone, traveling, going to the beach, cooking, exercising, and exploring all that Southern California has to offer.